Warning ABOUT PHISHING
Phishing attacks aim to dupe a victim into releasing sensitive information that can be used for identity theft. These attacks are on the rise with increased holiday shopping.
In the most recent attack we're hearing about, a fraudster sends a text message to a cardholder, requesting they call an 800 telephone number because their "account is locked." When the cardholder calls the number, they're asked to enter their card number or other personal information, such as their PIN, Social Security number or mobile device codes.
Phone system or other channels that legitimate texts to verify transactions will never ask for card numbers or other personal details. SHAZAM's short code for sending text messages is 72718.
If you have questions about the legitimacy of a call or text, call our fraud team at 866-508-2693.
Social media security tips
So, why would a hacker want your account when it's filled with photos of your dog or that room you renovated during Covid? First and foremost, it's a legitimate account.
Social media platforms delete billions of fake accounts every year. Bad guys steal real accounts, like yours, and sell them on the black market where buyers can use them to spread propaganda or to extort and scam money from unsuspecting victims. Victims who may be in your social media friends list.
Use these simple cybersecurity rules to protect yourself and others, and to navigate social media confidently and safely:
Use separate and complex passwords, or better yet a passphrase, for each social media platform, and all online accounts. Change these passwords often as hackers buy and sell stolen password lists on the dark web.
Make sure you understand the account password recovery and reset services. If a hacker gains access to your account, one of the first things they'll attempt to do is reset the password. If the platform offers some form of multi-factored authentication, such as a text message approval, use it wherever possible.
Be leery of private messages, even if sent from a colleague or friend. Follow the adage of trust through verification. Call or text the person to verify it's them contacting you. Use the phone number from your contacts list and not the one provided in the message. If you don't have their number, do you really need to be in communication with them over social media platforms? Probably not.
Don't overshare. Hackers can utilize information you post on social media platforms in complex social engineering attacks against you.
The pandemic has changed our personal and work life structure. New hybrid work environments, with employees continuing to send and receive emails from their personal devices, further increase risk at work. Hackers often use attacks against a single employee to gain access to an entire organization. Don't be that pathway for the attackers. Make cybersecurity a priority today.
Victims are encouraged to contact the FBI Internet Crime Complaint Center (IC3) to report the online crime.
farmbank will NEVER request confidential information from a customer such as an account number, social security number, PIN's or passwords by email.
Fake check scams could cost you thousands of dollars.  It all starts when someone gives you a realistic-looking check or money order and asks you to wire them money somewhere in return. It's phony, and so is the person's story, but that may take weeks – even months – to discover.
Phishing is a scam where Internet fraudsters send spam or pop-up messages to lure personal and financial information from unsuspecting victims.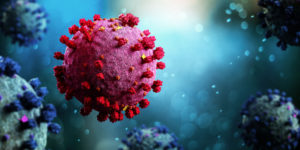 Beware of Scams Related to the Coronavirus
Scammers are taking advantage of the coronavirus pandemic to con people into giving up their money. During this time of uncertainty, knowing about possible scams is a good first step toward preventing them.
Identity Theft is when someone steals your identity and opens credit cards, bank accounts or other accounts to commit fraud or theft, using YOUR IDENTITY!